Dating Advice For Meeting Women: Get Others to Do the Work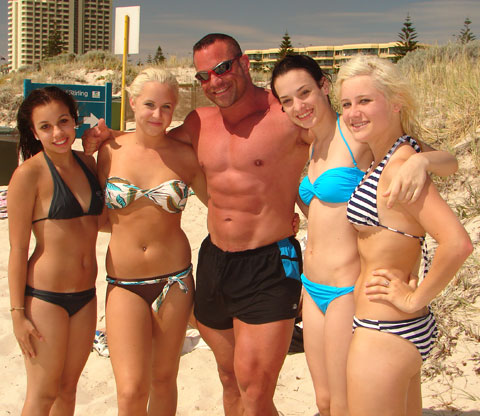 Want some excellent dating advice for meeting women? Think about this:
Are you friends with or have any male relatives that are successful with women? Know of any women who have lots of female friends? NEVER underestimate the benefit of having a "Wingman" or "Wing-woman".
These folks can take a lot of the guess work out of dating by introducing you to women or women friends. A female with lots of female friends is bound to have someone in her mix that is single, about to be single, or just looking for someone "new" altogether.
This strategy is taken directly from Robert Greene's The 48 Laws of Power: Law 7 which says to
"GET OTHERS TO DO THE WORK FOR YOU…"
"Use the wisdom, knowledge, and legwork of other people to further your own cause. Not only will such assistance save you valuable time and energy, it will give you a godlike aura of efficiency and speed…Never do yourself what others can do for you."

A male wingman who is usually successful with women will naturally attract women based on his looks and personality alone.
So NATURALLY, you want to be around him when they come. Just let him know that you are trying to meet women, and ask him to take you along the next time he goes out (tell him you want to learn from him).EVEN BETTER DATING ADVICE FOR MEETING WOMEN: YOU decide where and when you want to go out, and offer to pay his way into the night club or social bar if he will come along and help introduce you to women (NOTE that it may be cheaper just to buy him a drink or two).
If it's a party or get-together, tell him you'll treat him to "McDonald's" or something afterwards. A case of beer may work as well. But don't do anything silly like promising him money. It's not that serious…A good wingman will find two (good looking) women standing off to the side, and have the two of you go over to them. He will then do all of the talking by introducing himself to the one he is interested in, and then introduce you ("this is my best friend/brother/partner in crime/etc…") to the second female.
He will do a little more conversing to butter them up ("you guys enjoying yourselves?" "where are you guys from?"), and if the communication part is working out, he will begin to focus is attention ONLY on girl #1.
IT WILL THEN BE UP TO YOU to take over and continue the conversation with girl #2 after he "gets you in." HE CANNOT DO THE TALKING FOR YOU AT THAT POINT! (If your are in need of conversation tips, then get a refresher at "Dating Conversation Tips")
For an excellent movie to study about this dating strategy, check out "Swingers"
With a female wingman this dating advice for meeting women strategy works a little different. If you are a "dog," or a "Player," then she's not going to let you ANYWHERE NEAR her "innocent" female friends.
If she is good friends with you, she will not suggest any of her "fast" girlfriends to ruin you (unless you specifically ask to be hooked up with one, but she will still try to protect you since she knows how much her friend likes to "eat nice guys like you for breakfast.").
So ask for an introduction to her single (good looking) girlfriends. ALWAYS try to see a picture of her friend if she has one (or knows her friend's myspace page), and expect her friend to want to see one of you; so have one available to give away or one you can email.
DO NOT use a wing-woman to go to the club with you to find women. It sends all the wrong signals. The women she introduces you to might think that the two of you are "swingers" looking for a third participant, or if she specifically tells the woman that she is only helping you to meet women it may make you look "weak" and "pathetic."
Hope this dating advice helps. For an updated dating strategy on this technique see Dating Advice for Meeting Women: Wingman 2.0
TRUST THE SYSTEM!


---
Return from Dating Advice: Get Others to Do the Work to Dating Tips & Strategies Home
Return to The Dating Single Male Home Page